Winter Table Runner Let it Snow 20 x 70
Winter Table Runner Let it Snow 20 x 70
These patterns are included individually in Nov. 2022 club

All Quilting & Embroidery Formats are available. Choose your Format (Options) below before adding it to your cart

*"Winter Table Runner". This Set includes 15 patterns

This is the "Let It Snow" version

This was designed so you could use it all Winter

This will quilt out all at once!


Price:
$75.00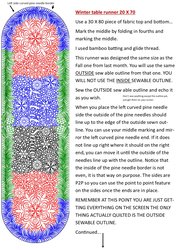 Product Reviews
Please
login
to review this product.