Subtle Quilt - Custom Quilting Instructions from Norma's Quilt Studio
Subtle Quilt - Custom Quilting Instructions from Norma's Quilt Studio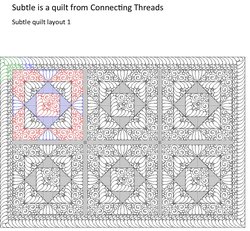 This is an Instructional Video on Custom Quilting for the quilt named "Subtle" by "Connecting Threads". It was done by Norma at "Norma's Quilt Studio" for Wasatch Quilting. It was done using Statler Creative Studio Software on a Gammill Long Arm Quilting machine, but it should be useful information for all machine types. (33 minutes long)
This video is Free for viewing at any time if you are a Masters Club Member and logged into the website. (Home Page / Videos / Instructional Videos). If you are not a Masters Club member it is available for purchase directly from Norma's Quilt Studio for $25 using the following link:
https://www.njbestquilts.com/online-store/Custom-Quilting-Subtle-p456606030
Product Reviews
Please
login
to review this product.