Paisley and Feathers E2E simple
Paisley and Feathers E2E simple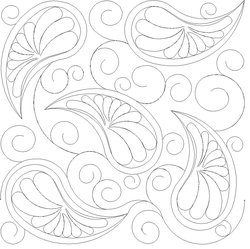 (Pattern is 11 in Wide X 11 in High)

THIS PATTERN IS INCLUDED IN JULY 2012 MASTERS CLUB
The only part of this pattern that is not over-stitched is the outline of the paisley. Everything else is over-stitched do allow time to quilt!
It will take one full bobbin to do one pass of a 77 inch wide quilt
All Quilting & Embroidery Formats are included in the download
Price: $15.00

Product Reviews
Please
login
to review this product.