Modern Bdr 4
Modern Bdr 4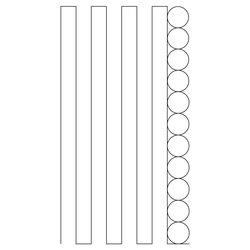 All Formats are included in this download
The original height on this pattern is 5.75 inches, the circles are .50 inches in diameter and the lines are .36 inches apart
THIS PATTERN IS INCLUDED IN AUG 2013 MASTERS CLUB
These original modern borders are named for the number of line sections between the circles so this one will have 1 line between the circles. the modern border 2 will have 2 lines, the modern border 3 will have 3 so on and so forth.
This border will not fit the Modern Bdr Crnr 2016
Piano Key
Price: $5.00

Product Reviews
Please
login
to review this product.