Halloween Fall Set
Halloween Fall Set
Please Note - Embroidery Users: These patterns are generally larger and may not fit the hoop for many Embroidery machines. For example, the Letters are 7 in to 19 in Wide X 2 in high; Edge to Edge patterns are 14 in to 16 in Wide X 14 in High - (the large Spiders & Web E2E Dense is 24 in Wide X 18 in High); the Spider Web motifs are 12 in Wide X 12 in High; and the RIP Stone is 14 in X 16. The rest are under 9 inches.

All Quilting & Embroidery Formats are available. Please choose the format you need before adding it to your cart.


Price:
$55.00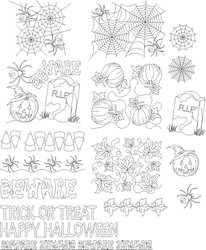 Product Reviews
Please
login
to review this product.