Bubbles Fill A - Deluxe Set
Bubbles Fill A - Deluxe Set
Bubbles Fill A is a Deluxe Set that contains 49 Patterns

These fills can be used to fill around almost any shape or block that you want to highlight. The Bubbles in this set are all between 1/4 to 1/2 inch in diameter. These are Blocks, not P2P. Make sure to Choose Your Format when ordering.

Retail Value: $490

Set Price: $99


Price:
$99.00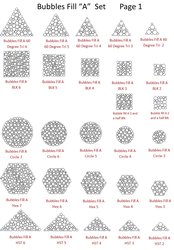 Product Reviews
Please
login
to review this product.