Agave Garden Quilt Set
Agave Garden Quilt Set
THIS PATTERN IS INCLUDED IN SEPT 2013 MASTERS CLUB

*These patterns were designed for Judy Niemeyer's quilt called "Agave Garden"

Retail: $177.00

Set Price: $75.00

The incredible quilting on the quilt in the photo was done by Shelley Nealon, of San Jose, California.

The quilt was constructed by Paula Nelson who made the quilt for her daughter as a graduation gift. Her daughter picked out her favorite colors and mom made the "spectacular gift".

Congratulations to both of you the quilt is an Heirloom.


Price:
$69.00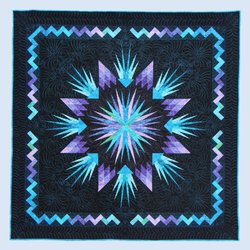 Product Reviews
Please
login
to review this product.