1 Starburst quilt pattern set 2
1 Starburst quilt pattern set 2
Retail value $80 Set price $35.00

This set was created for the quilt called "Starburst" by, Dereck Lockwood. There are 4 different layouts and sets, the only thing that changes in each layout is the block sourrounding the diamonds. so look at each layout and choose your set based on that layout.

All patterns in these sets are available individually

All of these patterns will be included in the April 2013 Masters club patterns

Click here to download a pdf of this set


Price:
$35.00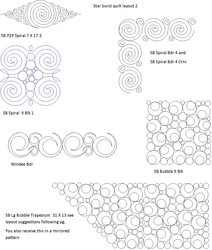 Product Reviews
Please
login
to review this product.