1 Delbert and Leona set (DL)
1 Delbert and Leona set (DL)
This set is included in January 2014 Masters club

Retail cost to purchase this set individually is $350.00

These patterns were made for the quilt designed by Chris Hoover called "Delbert and Leona".

Most of the patterns in this set can be used on multiple quilts! Especially the fills.


Price:
$80.00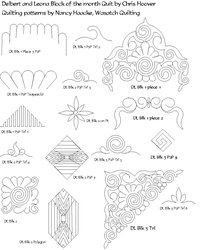 Product Reviews
Please
login
to review this product.