Meandering feathers E2E
Meandering feathers E2E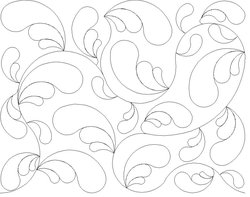 (13.8 in Wide X 10.9 in High)
THIS PATTERN IS INCLUDED IN APRIL 2012 MASTERS CLUB
All Quilting & Embroidery Formats are included in this download
This pattern quilts out so nice and gives a great look on any quilt when you just can't decide what to quilt this is always a hit!
The quilt featured was Pieced by Fran McGuire - Quilted by Barbara Ryan
This quilt was inspired by a quilt designed by Cori Derkson & Myra Harder "Urban Amish" in December 2010 American Patchwork & Quilting Better Homes and Garden.
Price: $15.00

Product Reviews
Please
login
to review this product.