Labyrinth Walk Deluxe SET
Labyrinth Walk Deluxe SET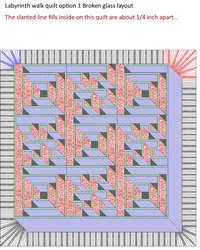 This set contains all 3 sets, Pebbles, Broken glass and Curls and Pearls and the 1/4 inch and the 1/2 inch slanted line fills and borders and corners to complete the Labyrinth Walk quilt in several variations.
the Pebbles set along with the slanted line fills and borders was in February 2017 Master club The Curls and Pearls fills only (not including the slanted line fills) were in October 2017 Masters club
The Broken glass set was not in any club and quilts out quickly because there is no overstitching in the Broken glass patterns..
This set has a retail value of $950.00
The set price is $230.00
Price: $199.00

Product Reviews
Please
login
to review this product.