M&M 1040 Tax form Bdrs
M&M 1040 Tax form Bdrs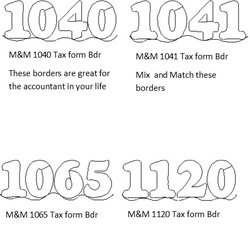 THESE PATTERNS ARE INCLUDED IN JULY 2018 MASTERS CLUB
**All formats are included in this download
**M&M means you can mix and match them. These Borders are great for the accountant in your life!!
**the dollar sign is good to put between the form numbers.
* There are 4 patterns in this set
*See the layout on one of the following pages
Price: $20.00

Product Reviews
Please
login
to review this product.