Back to Nature Tonga Quilt SET and Tonga Rhapsody
Back to Nature Tonga Quilt SET and Tonga Rhapsody
This set contains Blocks, Borders, corners, and sashings for the Back to Nature Tonga Quilt and Tonga Rhapsody "by Wing and a Prayer"

All of the Patterns in this set were meant to mix and match each pattern contains an element from another pattern to help them blend well.

There are a few pictures that give layout suggestions for the two quilts. These are just suggestions play with the set and see what you can come up with.

Patterns have been added since the original set came out.

The quilt in the photos is by Jane Coons of Chesterfield MO a big thanx to Jane for supplying the photos.

There are 2 free pattern downloads in the free patterns section that go with this set revised by Jane.


Price:
$75.00
$37.50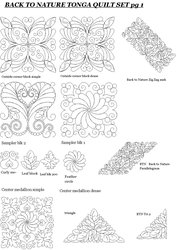 Product Reviews
Please
login
to review this product.